Apr 2003 

Apr 2003
Péter SZABÓ
- cello & conductor
ERDŐDY Chamber Orchestra
, leader:
Zsolt SZEFCSIK
"Péter Szabó's multi-faceted contribution to this first volume of his projected set of Pleyel's cello concertos extends beyond shouldering the soloist's mantle to preparing the performance editions from autograph manuscripts of these five works and composing pertinent." (...) "Particularly enjoyable are his expansive accounts of the opening movement of B106 and the adagios of B101 and 108, his sonorous lyricism in the slow movement of B104 and his characterful, spirited interpretations of the light-hearted finales, most notably of B105."
The Strad
Tracklist
MIKLÓS RÓZSA:
Duo for Cello and Piano Op.8.
1. I. Allegro risoluto ed energico 6'12"
2. II. Tema con variazioni 11'56"

Károly GOLDMARK:
Gordonka-zongoraszonáta / Sonata for Cello and Piano Op.39.
3. I. Moderato con mosso 8'51"
4. II. Andante 7'32"
5. III. Allegro non troppo 7'31"

Ferenc LISZT:
Consolations (arr. by Jules de Swert)
6. 1. Andante con moto 1'22"
7. 2. Un poco più mosso 2'43"
8. 3. Lento placido 3'52"
9. 4. Quasi adagio 2'26"
10. 5. Andantino 2'32"
11. 6. Allegretto sempre cantabile 2'37"

Total time: 58'30"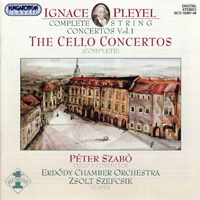 World Premiere Recording
2002