Péter Szabó is one of the most acclaimed Hungarian cellists performing today. His Concerts bring him regularly around the world and raving reviews: "...he performs the solo part brilliantly and musical refined with a strong impact!" – Fono Forum; "Szabó brings fiery declamation to the piece" – The London Times! "...his interpretation is full of vitality and engaged. He is initiative in the fast movements, moderate and bashful in the slow movements. His sonority is warm, his technique is impeccable." – Repertoire. "...His interpretation is intelligent and enthusiastic" – Classica. "Particularly enjoyable are his expansive accounts of the opening movement ...his sonorous lyricism in the slow movement ...and his characterful, spirited interpretations of the light-hearted finales." (The Strad, 2003)


Many of his recordings received enthusiastic praise and were the Editor's choices of magazines like Fono-Forum, The London Times, Repertoire, Classica, American Record Guide. He was also presented the Hungarian Classical Award of the Gramophon Magazine in 2002 for the best Hungarian Performer of the year!


In 2011 Péter Szabó has been awarded the Franz Liszt Prize, one of the most prestigious prizes for artistic accomplishments given by the Hungarian State. In 2014 he was awarded with the László Lajtha Prize.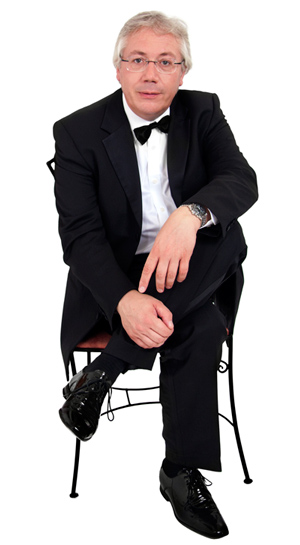 Concerts have taken him to several European countries as well as to the USA, South America and the Far East. He performed in such acclaimed halls like Wigmore Hall (London), Musikverein and Konzerthaus (Vienna), Mozarteum (Salzburg), Tonhalle (Zürich), Kozerthaus (Berlin) and many international festivals including Pablo Casals Festival Prades, Salzburg Festival, "The October Festival" in Normandy, Aldeburgh Festival, the Royal Palace Festival in Stockholm, the Kissinger Sommer, the Istanbul Music Festival and the Budapest Spring Festival!


As a soloist Péter Szabó has appeared with leading orchestras including the Camerata Academica Salzburg, the Hungarian National Philharmonie, the Hungarian Radio Symphony Orchestra, the Budapest Festival Orchestra, the Württemberg Chamber Orchestra of Heilbronn and played under the baton of famous conductors like Yehudi Menuhin, Iván Fischer, Tamás Vásáry and Peter Keuschnig just to mention a few.


He is asked very often to join for chamber-music and has established himself as a regular partner with artists Zoltán Kocsis, Till Fellner, Pierre-Laurent Aimard, Yuri Bashmet and Alexander Loncquich. In 1996 he formed together with Gábor Takács-Nagy and Dénes Várjon the Takács-Várjon-Szabó Piano Trio which lead to many concert tours and several CD recordings. In his concert appearances he has performed music ranging from the renaissance to the present and works closely together with contemporary composers, often giving the first public performance of their works (Veress, Lajtha, Kocsár, Kurtág, and Eötvös). His artistic commitment – beside performing the standard repertoire – to introduce the rarely performed masterpieces of the Hungarian and international cello literature to the general public. As a professor Péter Szabó has given annual master classes at the European Mozart Academy all over Europe, in Bulle (Switzerland), in Sao Paolo (Brazil), Korcula (Croatia). His many CD recordings, which also contain new discoveries and world premieres, are on labels such as BBC records, Channel Classics, Electrecord, Hungaroton and Naxos (including works by Beethoven, Brahms, Chopin, Dohnányi, Dvořak, Goldmark, Haydn, Koessler, Lajtha, Liszt, Moór, Pleyel, Rózsa, Rossini, Seiber, Szabó, Terényi, Vanhal).


He has finished the edition of the Pleyel Cello Concertos for Simrock (Boosey & Hawkes) Edition Company. He has discovered the manuscripts of these outstanding Cello Concertos and composed the cadences, made the piano reductions.


Péter Szabó has many years of experience as a Principal Cellist. He was the solo cellist of the Hungarian Radio Chamber Orchestra between 1991-1993. From 1993 until 2000 he was working together with Sándor Végh and Sir Roger Norrington as solo cellist at the Camerata Academica Salzburg. Between 2000-2003 he was the solo cellist at the World Orchestra for Peace founded by Sir George Solti. Presently - from 1993 - he is holding the post of Principal Cellist for the Budapest Festival Orchestra.


Born in Transylvania in a family with a long musical tradition, he received a wide ranging musical training from his father, who was a composer, conductor, musicologist and folklorist. Péter Szabó soon started his studies at the Music Academy in Kolozsvár (Klausenburg) where he graduated with distinction in 1985. Then he continued at the Ferenc Liszt Academy in Budapest with Ferenc Rados, György Kurtág and László Mező and he graduated with Summa cum laude in 1991. He also took part in many Master-classes with Miklós Perényi, A. Meunier, E. Rautio, T. Kühne and György Sebők.